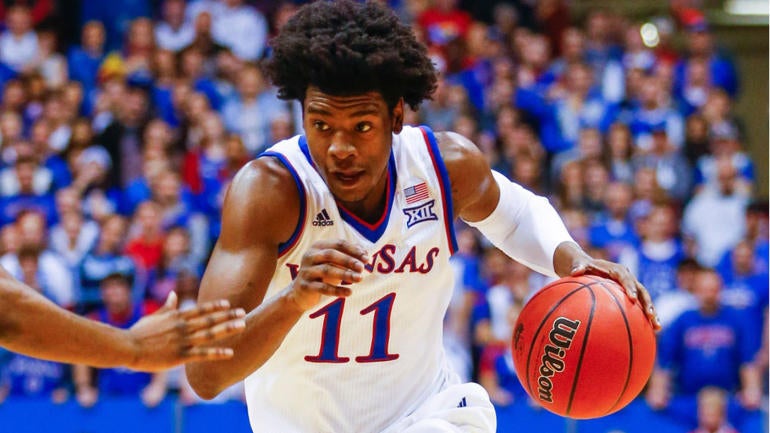 1.  Boston Celtics (Via Nets)  SG/SF Josh Jackson, Kansas, 6'8″
Even though Boston could realistically trade this pick for Jimmy Butler or Paul George, GM Danny Ainge has been reluctant to pull the trigger to give up Brooklyn's highly valued assets. Jackson, a versatile player who continued to improve his shooting over the course of the season and also has lockdown defensive potential, will fit perfectly between I.T. and Jae Crowder or Jaylen Brown.
2. Los Angeles Lakers, PG Lonzo Ball, UCLA, 6'6″
This is likely the only thing LaVar Ball wants to happen that will happen. Lonzo is a TRUE point guard that will bring excitement and stability back to LakerLand. With Luke Walton moving D'Angelo Russell off the ball, Ball is a perfect fit to orchestrate the offense with DLo, Brandon Ingram, Julius Randle, and Ivica Zubac.
3. Phoenix Suns, SF Jayson Tatum, Duke, 6'8″
Phoenix will want to select Markelle Fultz with this pick and he's an option if they move Eric Bledsoe. I'm usually against teams picking the best available player because that creates logjams at positions. Suns GM Ryan McDonough needs to select Jayson Tatum because it will be fitting a square peg in a square hole. Tatum can create shots for himself as well as shoot off the catch. He also has the size and rebounding ability to play some small ball 4. A lineup of Bledsoe, Booker, Tatum, Chrisse, and Chandler/Bender will be a force in the Western Conference for years to come.
4. Orlando Magic, SF/PF Jonathan Isaac, Florida State, 6'10"
Again, Orlando will look to pick Fultz, but with Elfrid Payton finally rounding into form and Evan Fournier anchored in at the 2, a versatile wing to complement Aaron Gordon not named Terrance Ross is a good fit here. Isaac is oozing with potential seeing that he is essentially a 6'10 (maybe even taller) wing with a smooth jumpshot, lockdown defensive ability, and a strong rebounder. I want to give a Kevin Durant comparison VERY bad, but my IQ just won't let me give it to him.
5. New York Knicks, PG Markelle Fultz, Washington, 6'5″
Enter Phil Jackson. I have Fultz here because there is no way he falls outside of the top 5. The only reason I have him outside of top 3 is because of fit with other teams. No, Fultz isn't your 90's Bulls or 00's Lakers triangle point guard, but the dynamic ability of Fultz to create shots for himself and teammates, Phil needs to build around this kid and The Unicorn when he moves on from Carmelo sooner or later, or if the Knicks move on from the Zen Master.
6. Philadelphia 76ers, SG Malik Monk, Kentucky, 6'3″
If coach Brett Brown wasn't planning on giving Ben Simmons primary ball handling duties, Dennis Smith Jr. would be the pick. Insert Malik Monk who will thrive playing off the ball and coming off of screens because he does not command the ball in his hands. With Ben Simmons sporadic shooting ability, sliding in Monk along with Saric and Embiid will give the 76ers plenty of floor spacing for Simmons to penetrate and dish to open teammates.
7. Sacramento Kings, PG De'Aaron Fox, Kentucky, 6'4″
Since sending Boogie to the Big Easy, the Kings are in full rebuild mode. Although the jury is still out on Fox's jumper, his elite explosion and speed will give the Kings a young guard with potential to build  around. Fox is also capable of being a really good 2-way point using his quickness to jump into passing lanes as well as harass opponents with his on-ball defense. If Dave Joerger allows Fox to get the ball and go, Sacramento will finally have the lead guard it thought it had during Tyreke Evans' rookie season.
8. Minnesota Timberwolves, PF Lauri Markkanen, Arizona, 7'0″
Mark Cuban will lose his mind if this kid is off the board the pick before his. Supposedly Markkanen is the next coming of Dirk, so who better than to guide him rather than Dirk himself? But if Tom Thibodeau has any brains, he will slot this pick with a catch and shoot big man to pair with KAT. The Timberwolves have young point guards, young wings, and a young post superstar. Add in a stretch 4 that won't take shots away from Wiggins, KAT, and Lavine when he returns, they might finally breakthrough and contend. For the 8 seed.
9. Dallas Mavericks, PG Dennis Smith Jr., North Carolina State, 6'2″
If Mark Cuban loses his mind per usual, he might just reach and try to draft T.J. Leaf. I'm in a good mood so I will give Mr. Cuban the benefit of doubt and say he will give Wes, Nerlens, and Harrison a dynamic point guard to work with for the future while giving Dirk a chance for one more playoff run. It will also help to have your starting point guard not be named Yogi or the other Curry. Smith is an explosive guard who can score and drop dimes, but in a stacked point guard class, he's a fringe top 10 pick.
10. Sacramento Kings (Via Pelicans) SF/PF Miles Bridges, Michigan State, 6'7″
Vlade Divac has a chance to at least create some excitement in Sac Town with 2 potential top 10 picks in June's draft. Bridges is a prospect with a high ceiling, especially since he showed an improved jumper later in the season to go along with his elite athleticism. Pair him with Fox and Cauley-Stein and they have a chance to move Lob City up the California coast.
11. Detroit Pistons, PG Frank Ntilikina, France, 6'5″
Whew. Stale Van Gundy, wait Stan, has created an absolute dumpster fire in Motown. He tried to recreate the magic he made in Orlando with Dwight Howard by surrounding Andre Drummond with shooters. Drummond has stagnated along with PG Reggie Jackson who were both rumored to be on the block at the deadline. Drafting Ntilikina would be the writing on the wall for Jackson. The young Frenchman is a 6'5 point guard who can guard multiple positions defensively as well as knockdown the 3 ball at a 41% clip in Europe this season. He's not as dynamic as the other lead guards in this draft, but he is a solid core piece to find and build around late in the lotto.
12. Charlotte Hornets, SG Sindarius Thornwell, South Carolina, 6'5″
Call me crazy, but this guy can play and not because he's had a magical March because we all know how those guys turn out. Thornwell has been a consistent killer of SEC opponents during his time in Columbia. There's a reason why he was named SEC POY after averaging over 20 points per game this season, March has just boosted his stock. With His Airness limiting the Hornets franchise by giving out deluxe contracts to anybody who raises their hand for one, Thornwell is a hard-nosed player who at 6'5 can create shots for himself and teammates as well as play lockdown defense. MJ could reach for a big at this pick, but you can't pass on a seasoned vet just because society tells you not to draft somebody who stayed in college the full 4 years.
13. Denver Nuggets, PF Isaiah Hartenstein, Germany, 6'10"
The Nuggetts have a solid young core in the Mile High City centered around Nikola Jokic and it is time for the franchise to move on from Kenneth Faried. Selecting a young big to pair with Jokic and guards Emmanuel Mudiay and Jamal Murray, Denver will be looking at a golden nugget type of future. Hartenstein is also a versatile player that coach Mike Malone could experiment with and even play him on the wing if he wants to experiment.
14. Chicago Bulls,  SG/SF Terrance Ferguson, Adelaide, 6'7″
A 2016 McDonald's All-American who skipped out on college to go play in the Austrailian League, has struggled to get his footing Down Under, but that will not turn teams away once he shows off his shooting ability and athleticism during draft workouts. If the Bulls plan to keep Jimmy Butler, adding Ferguson would give an ancient team a boost of athleticism on the wing and possibly 2 lockdown defenders while still being flexible in free agency to add pieces and primed star power.
Written By: Nyck Young